Eagle Blue- Georgia Grey Granite - Blue Ridge Granite Quarry
view more
Material:
Stone Name:Blue Ridge Granite(See material detail)
Grey - Granite
Origin:

United States
Contact supplier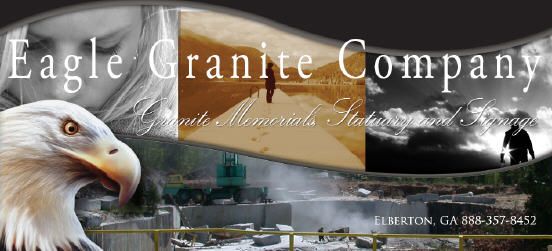 United States
Eagle Granite Co. Inc
Eatablished :Dec 30,1960
Main Product:
Granite, Marble, Memorials, Monuments, Building Stone
More
Less
View Company profile
Product Detail
Company Profile
Recommended Granite Products
Buyers' Request
Lis***Wrote:
We have a customer looking for an irregular granite boulder to use as a grave marker. It need to be 2 to 3 feet wide and at least 3 feet high. I can provide a photo for example.

Joe***Wrote:
I am looking for Eagle Blue- Georgia Grey Granite - Blue Ridge Granite Quarry. 1. 6 feet wide 4 feet tall and 6 inches thick 2.1 piece 3.polished top and all 4 sides except bottom please include shipping to 2447 Melon Ave. Muscatine, Iowa 52761

Kim***Wrote:
Good morning - The Tradesmen Group is a historic restoration/preservation contractor based out of Plain City, Ohio. We are proposing on a project for reconstruction of a seawall for the National Park Service near St. Mary's, Georgia. Can you quote to provide Georgia Gray granite in random coursed heights/lengths for snapped blocks and irregular rubble stone for use on reconstruction of the wall? I have photos for reference if you would like them. Our project bid is due to NPS early next week, so if you could let us know if you can have your pricing to us by this Friday EOD, we would appreciate it. If you are not the proper company to contact but can provide a reference elsewhere, that would be great too. Thank you.

Ala***Wrote:
Subject: DGS Governor's Street Vehicle Access Project Richmond va STONE MATERIALS (GRANITE BLOCK) 044000 – Granite: The specifying party shall provide the following information for each different granite or finish required: 1. Granite Variety: Georgia Gray 2. Location: Block seating in linear park 3. Nominal Thickness: (see plans) 4. Finish: Sides shall be split-face. Top and bottom faces shall be sawn 4-cut

Mat***Wrote:
I am currently in contact with a Vietnamese businessman named Thanh Tien Nguyen. Thanh owns a large Granite quarry in Cambodia. He is visiting the US sometime in October and would like to discuss a potential joint venture. He wants to begin distributing his granite in the US. he currently has relationships throughout Asia and Europe. Would you like to schedule a meeting with him to explore this opportunity? If so, let me know what he needs to provide to you for verification purposes. Looking forward to your response. Sincerely,

Mat***Wrote:
I am currently in contact with a Vietnamese businessman named Thanh Tien Nguyen. Thanh owns a large Granite quarry in Cambodia. He is visiting the US sometime in October and would like to discuss a potential joint venture. He wants to begin distributing his granite in the US. he currently has relationships throughout Asia and Europe. Would you like to schedule a meeting with him to explore this opportunity? If so, let me know what he needs to provide to you for verification purposes. Looking forward to your response. Sincerely,

And***Wrote:
Dear Bob We are a regular importer of natural materials from different parts of the world, I'm searching for granite polish slabs from the US, if you can provide us with this please let us know Regards

Emm***Wrote:
We are interested in purchasing granite from your company to sell in Kansas City Missouri. We have read the "how to buy" portion of your website, however, we have other questions as well. Will you send a sample board of the products you have so our customers may see and touch what they want to buy? along with a pricing list, Who pays the import/export fees? and lastly do the samples you might provide cost and if so how much? Please give us a call or email Thank you,

Emm***Wrote:
We are interested in purchasing granite from your company to sell in Kansas City Missouri. We have read the "how to buy" portion of your website, however, we have other questions as well. Will you send a sample board of the products you have so our customers may see and touch what they want to buy? along with a pricing list, Who pays the import/export fees? and lastly do the samples you might provide cost and if so how much? Please give us a call or email Thank you,

Emm***Wrote:
We are interested in purchasing granite from your company to sell in Kansas City Missouri. We have read the "how to buy" portion of your website, however, we have other questions as well. Will you send a sample board of the products you have so our customers may see and touch what they want to buy? along with a pricing list, Who pays the import/export fees? and lastly do the samples you might provide cost and if so how much? Please give us a call or email Thank you,

Emm***Wrote:
We are interested in purchasing granite from your company to sell in Kansas City Missouri. We have read the "how to buy" portion of your website, however, we have other questions as well. Will you send a sample board of the products you have so our customers may see and touch what they want to buy? along with a pricing list, Who pays the import/export fees? and lastly do the samples you might provide cost and if so how much? Please give us a call or email Thank you,

Emm***Wrote:
We are interested in purchasing granite from your company to sell in Kansas City Missouri. We have read the "how to buy" portion of your website, however, we have other questions as well. Will you send a sample board of the products you have so our customers may see and touch what they want to buy? along with a pricing list, Who pays the import/export fees? and lastly do the samples you might provide cost and if so how much? Please give us a call or email Thank you,

Emm***Wrote:
We are interested in purchasing granite from your company to sell in Kansas City Missouri. We have read the "how to buy" portion of your website, however, we have other questions as well. Will you send a sample board of the products you have so our customers may see and touch what they want to buy? along with a pricing list, Who pays the import/export fees? and lastly do the samples you might provide cost and if so how much? Please give us a call or email Thank you,

Emm***Wrote:
We are interested in purchasing granite from your company to sell in Kansas City Missouri. We have read the "how to buy" portion of your website, however, we have other questions as well. Will you send a sample board of the products you have so our customers may see and touch what they want to buy? along with a pricing list, Who pays the import/export fees? and lastly do the samples you might provide cost and if so how much? Please give us a call or email Thank you,