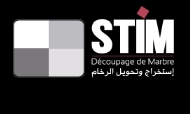 STIM - Societe Tunisienne dIndustrie Marbriere

Tunisia
Company Description
The Tunisian Company of Marble Industry "STIM" operates in the marble sector. It is the parent company of a group created in 2001.
Since its creation, the group has positioned itself as a local leader in the marble sector, to then consolidate its position nationally and internationally, with the good quality and variety of its products. Also, STIM places customer satisfaction at the heart of its strategy, hence customers who have been loyal to the company for many years.
Today the group employs more than 60 people.
Since its creation, STIM has not stopped developing to become today the only Tunisian group vertically integrating the entire production and logistics chain of the marble industry.
We directly operate three quarries of marble stones "NOIR BERBER - KADHEL GRIS - GRIS HAMILCAR";
The company also has a network of partners which allows it to offer a wide range of products.
The factory and storage depot are only 10 minutes from TUNIS CARTHAGE airport (the country's main airport), which allows us to offer fast and quality service to our foreign customers. With a total storage area of 25,000 m2, we guarantee our customers the widest choice of Tunisian products combined in a single deposit.
Our commitment as a professional is to ensure a good quality product and also its continuity.
From its beginnings and today more than ever, STIM has become the ambassador of Tunisian marble throughout the world.