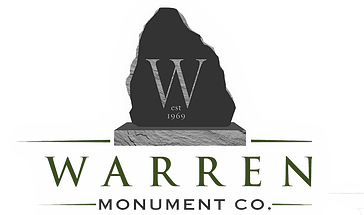 Warren Monument Company

United States
Company Description
In 1964 Max Warren and brother Leland started working at the old Guthrie Monument company located in the heart of downtown historic Guthrie. After cutting their teeth for 5 years working for Preston Walker, the Warren Brothers decided to open their own establishment. Max and Leland alongside Max's wife Darlene opened up The Warren Monument Company in 1969. To this day, Max remains a mentor to the company and plays a big role in its continued success.
Thanks for visiting our website. We hope you find it to be helpful and informative. We know dealing with the loss of a loved one can be the most difficult time in a person's life and we are committted to making sure you understand all available options. Our 45 years of experience has taught us a lot over the years and we have learned that nothing is more important than making sure your loved one is remembered as uniquely as the life they lived. We offer a wide spectrum of options including state of the art technology enabling us to work alongside you in fully customizing the perfect monument. We proudly service Guthrie, Edmond,Tulsa, Oklahoma City, Yukon, Mustang, El Reno, Stillwater, Crescent, Enid, Cushing and beyond.
We are committed to tradition. We stand for professionalism, considerate discretion and personal support. We respect both the wishes of the deceased and the bereaved and therefore address every concern as individually as possible.
Paying final respects to the deceased with dignity is just as important to us as offering support to the family and friends they have left behind. We will be there by your side in this difficult situation, to console you and give you the space you need to go through the process of grieving. We never lose sight of our role as an understanding companion to you during your time of mourning. You can turn to us for personal guidance. We will listen.