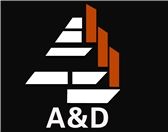 Yunfu Andi Stone Company

China
Company Description
Yunfu Andi Stone Co., Ltd. is a professional artificial stones manufactuer, products include quartz stones, artificial marbles and terrazzo with NSF, ISO and CE certificates.

In the past 10 years, it has established itself as a creative enterprise that specializes in producing the highest-quality quartz slabs and artificial marbles.
The factory covers over 30,000 square meters. The factory houses three fully automated quartz slabs production lines. In addition, we have two grinding and polishing lines. We produce more than 400,000 square meters of quartz annually.