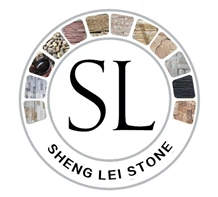 Hebei Shenglei Stone Factory

China
Company Description
Hebei Shenglei Slate Stone factory ,Main produce natural slate, mushroom stone, cultural stone, shape, net, loose stone, was founded in 2003, is located in the taihang mountain - China's largest natural sandstone, quartzite staging area, slate rich in resources, our factory is a comprehensive enterprise of collectioning of mining, stone processing, product design and development and sale.
Varieties have quartz class (white quartz. Green quartz. Black quartz. Pink quartz. Rust quartz. Grey quartz. Light red quarz) mushroom stone for exterior wall tiles.
Sandstone, white sandstone, siltstone mushroom stone, culture stone powder sandstone, red sandstone) mushroom stone for exterior wall tiles.
Granite (rose color. Red peony. Rosy. Yellow wood grain, etc.). Can be processed to mushroom stone. Stone tablet. Mosaic. Net post. Split face culture stone.
Our products as a kind of green environmental protection building materials products, raw materials used rocks formed billions of years ago, the quality of hard, bright color, acid and alkali resistant, low radiation and the sound insulation heat preservation performance is good, rich colors of nature.
Products are widely used in villas, yard, home, garden, community, park, square, such as buildings.
ChunPiao natural, elegant, piao guizhen, natural regression fit urbanite appeal.
Gradually become modern city ideal material of choice for indoor and outdoor decoration.
My factory since its inception, with its high quality products, good reputation, perfect service, win market recognition, more than 10 years we always adhere to quality first, the prestige supreme "management objective, with excellent quality, honest business trade with customers at home and abroad for extensive and sincere cooperation.
Production Capacity
| | |
| --- | --- |
| Factory size | 20hectare |
| No. of Production Lines | 6 |
| Factory Location | Stone Industrial Area Xingtai city, Hebei Province ,China |
| R&D Capacity | |