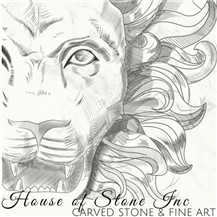 House of Stone, Inc.

United States
Company Description
House of stone specializes in high quality custom carved natural stone, hand carved by our staff of highly skilled artisans. House of Stone will not only carve the stone of your choice but our staff of designers will endeavor to create any piece you can imagine. making House of Stone the place to turn to for all of your stone needs.
House of Stone has been providing and custom hand carved stone since 1980. Our company consists of highly qualified stone masons who install and provide our customers with a unique and custom finished product. House of Stones customers choose from the highest quality stone available. The natural stones range from limestone to the best of the Adoquin and Cantera stones, which are shipped to our factory, inspected for quality and then carved by only the finest stone craftsmen. Our stone craftsmen are carefully chosen by the owner, who has over 25 years of experience in the stone business. We are pleased to provide our clients with over 25 types of high quality natural stone. Our stone craftsmen have had experience working with all of these stones and have created custom fountains, bollards, columns, fireplace mantles, urns, pots, moldings, and statuary to name a few. These works of art have finishes ranging from smooth to chiseled.