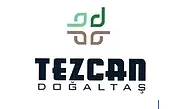 Tezcan Natural Stones

Turkey
Company Description
Since the dawn of civilization, human being created a culture by using stones. Since 1990 to today Our Company Tezcan
Natural stone has been processing each stone (onyx, volcanic tufa, andesite and marble) which are line of its activity and
Products creates masterpieces. The fundamental of our company is to carry the masterpieces which dwelled since the Antiquity to
the future. Our company; besides standard production of processed stone; can create custom designs and gives life to the
Contact stone with your projects and delicate workmanship.