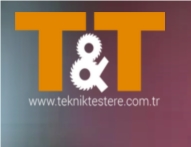 Konig Tools-Teknik Testere Inc.

Turkey
Company Description
Konig Tools-Teknik Testere Inc. was established in 2008 as a result of nearly 24 years of experience. Increased the number of products and customers with a steady growth every year and realized %85 of its endorsement by selling to 68 countries. It has band together the cutting tools and spare parts of all machines that are used in the aluminum and pvc industry with fast, high quality and affordable prices and it has become a company that sells cutting-welding-cnc machines and their cutting tools that produced by approximately 38 domestic and foreign aluminum-pvc machine manufacturers.
It has established the company that is called KÖNİG TOOLS İÇ VE DIŞ TİCARET LTD. ŞTİ. in 2011 and registered the company's name. Patented KÖNİG TOOLS brand about cutting tools and it made it available to customers all drilling and cutting tools that hss-HSSE and tin-coated in high quality produced under the same brand.
Secured by patent the KÖNİG MACHINE brand in 2014. It made production about Aluminum Pvc profile processing Door-Window production machines and sells its registered trademark that is name is KÖNİG MACHINE.
The company was marketing all the products of the manufacturer with KÖNİG TOOLS brand in cutting tools, and KÖNİG and T&T TECHNIC branded in the saw. It takes the raw material of 80% of the cutting tools and produces it specially.
The company participates in Aluminum and PVC fairs at domestic countries and abroad every year since 2012 and also it reaches hundreds of customers through our dealers in Europe, Asia, Africa, the Middle East, North America and South America.it provide supply to all PEN dealers in the domestic market with its strong infrastructure and active marketing department.The goal of our company that is exporting to 68 countries, to increase the number of export countries over 100 countries and to maximize product promotion.Teknik Testere,keeps in stock that machine tools that are distributed to various regions of Turkey and continues to serve its customers.Teknik Testere is that became first and only company in this sector in Turkey and abroad, is produced and made shipment of the cutting tools of pvc machines of URBAN, ALUMATEC, EMMEGİ, PERTİCİ, TEKNA, YILMAZ, KABAN, MURAT, SAWİN, FOM, MLA, SHILMER, STÜRTZ, VEGAMO, ROTOX, PROFTE and other machine manufacturers.