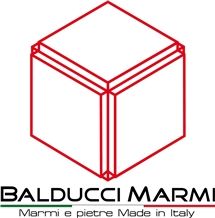 Balducci Marmi s.r.l.

Italy
Company Description
Our company is located in Camporgiano, near Versilia. We propose as a best partner in the processing of marble. With over 40 years of experience in mining, we can offer a product of high quality workmanship and special requests from customers. We are ready to deal with the design and implementation of solutions that can fully meet your needs.
Born more than 60 years ago, Balducci Marmi deals with the processing and trade of marble at 360 degrees.
High quality, artisan care, careful selection of the best raw materials, respect and consideration of the customer are our strengths.
We offer ourselves as an effective and efficient partner for Italian and foreign customers looking for the best stone product made in Italy.
With the technologies we have, we can meet the most stringent quality standards, without ever abandoning the artisan component of our work.
BALDUCCI MARMI S.R.L.
Loc. Zona Industriale CAMPORGIANO - (LU)
Tel 0583 618735
P.iva 02100040464
e-mail: info@balduccimarmi.it
Onsite Check
The supplier's company certificate has been verified by StoneContact.Com.

Verified Supplier
International Name
Local Company Name
Company Establish Date
Business License
Trade License
Existence Image