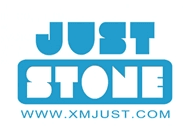 XIAMEN JUST STONE CO.,LTD.

China
Company Description
XIAMEN JUST STONE CO., LTD is a large scale stone business company with very good control of Limestone/marble quarries and Gangsaw/CTS working factories. More than twenty years of experience, supplying large projects in the USA, East Asia countries,UK, India and Italy, has proven our expertise.
Our professional staff has consistently been valuable to architects and interior designers and for both residential and commercial specifications. Owning quarries in TUNISIA, IRAN, INDIA and CHINA, We sell BLOCKS, SLABS, TILES, stone pavers, dimensional cut to size stone, and counter tops, using Chinese and imported stones. with precision-manufacturing and beautifully finishing we meet all international standards, specifications and tolerances.
XIAMEN JUST STONE CO., LTD is well known for selling high quality stone blocks from around the world in China. By importing the best blocks to China we are able to cut and fabricate these blocks and export them at very competitive prices.
Trade Show
XIAMEN STONE FAIR 2017
Middle East International Stone, Marble and Ceramic Show 2016
Coverings 2023 2016
View More Trade Show
View More Project Show