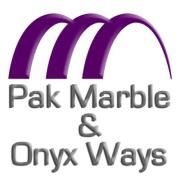 PAK MARBLE AND ONYX WAYS

Pakistan
Company Description
Welcome and walk with us through the doorway of Pakistan and explore mountain ranges blessed with myriad of natural resources, including a spectacular variety of Marble, Onyx and Sand Stone. We understand this fact that client satisfaction is directly related with quality of product and services. From classic to contemporary, our exacting quality standards and tight control of selection for color, pattern with clean uniform finish are the basics of our success. Our innovative designers and technical staff is fully capable to design carve and produce Marble & Onyx masterpieces according to your need and provided specifications.

Our company specializes in finding rare and precious materials and supplying quality products at the best prices for project work and large scale installations. Following is the variety line of onyx and marble: White Onyx, Dark Green Onyx, Light Green Onyx, Multi Green Onyx, Red Onyx, Multi Red Onyx, Brown Onyx, Multi Brown Onyx, Honey Onyx, Black & Gold/ Michaelangelo Marble, Teakwood/Burmateak Marble, Champagne Marble, Sahara Beige Marble, Indus Gold Marble, Verona Beige Marble, Boticina Green Marble, Boticina Fancy Marble, Boticina Flower Marble, Marina Pink Marble, Red Zebra Marble, Black Zebra Marble, Green Zebra Marble, Jet Black Marble, Trevera Marble, Sunny Grey Marble, Corel Marble, Fossil Marble, Oceanic Marble, Fairy Gold Marble and Chocolate Marble.

Our range of exclusive products includes; Tiles, Mosaic Tiles, Slabs, Blocks, Pedestals, Sinks & Wash Basins, Vases, Urns, Kitchen Counters, Reception Counters, Ball Room Counters, Table Tops, Corner Shelf's, Knobs & Pulls, Moldings, Fireplaces, Floor Borders, Planters, Stair Steps, Stair Treads, Medallions & Motifs, Pedestal Sinks, Bathroom Counters, Bathtubs, Shower Trays, Dustbins, Tissue Boxes, Tissue Holders, Soap Dispensers, Soap Dishes, Mirror Borders, Columns, Pillars, Balustrades, Railing, Window Surrounds, Water Table, Fountains, Chess Sets, Lamps, Ashtrays, Cigar Boxes, Jewellery Boxes, Mortar & Pestles, Candle Lamps, Table Clocks, Shelf Display Items, Office Table Accessories, Balls, Spheres, Paper Weight, Pyramids, Obelisks, Eggs, Animals, Birds, Fish, Dolphins, Beer Tanks, Statues & Buddha's, Tumbles, Fruits, Tissue Boxes, Bowls, Plates, Wine Cups & Glasses, Wine Goblets, Fruit Trays/Dishes, Ice-cream Cups, Candy Jars, Mugs, Glasses, Coaster Sets, Tea Sets etc.

Our company houses various production and office facilities. Following facilities are available to carry out each and every phase of the production cycle: heavy-duty equipment for the excavation and transport of raw material; a derrick in the workshop yard for hoisting and lifting, transporting and storing; block cutting machines; frames for both onyx and marble slab production; stone-working machines for dressing and finishing; bridge type milling and water-jet stone-cutting machines to handle any kind of project. Technical staff is specialized in carrying out projects directly from architect drawings or autonomously developing them.