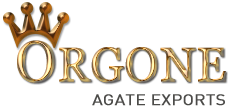 Orgone Agate

India
Company Description
Orgone Agate factory is located in the township of Anand District Khambhat town, with its own manufacture, Orgone Agate energy is directly influencing your emotions, dictating your desires and having a profound affect on your life. At present, the production and sales of Orgone Agate is world wide, With a wide range, good quality, reasonable prices and power designs, We are handling this trade From Past 80 Years. We have good clients in various countries.

Orgone Agate is the main manufacture, supplier & exporter of all agate Orgonite energy items, wholesale supplier Khambhat India, our products are Dowsing Pendulum, Energy Baby Pyramids, Orgone Chakra Set, Orgone Energy Disc, Orgone Energy Dome, Orgone Energy Massage, Orgone Energy Oval, Orgone Healing Wand, Orgone Obelisk, Orgone Pendent and more than 1000 products designs are available. We export to Australia, UK and Europe, United States, Canada, Japan, Spain, Israel, Italy, New Zealand, Netherlands, Germany and all around the world. Contact us for distributorship or wholesale of Orgonite Energy items.

The word Orgonite comes from "orgone", the name given by Wilheim Reich to vital energy found everywhere in nature. Also called chi, prana, ether, elan, elan vital, or the fifth element, this energy exists, in a natural way, under many different forms.
Our products are widely recognized and trusted by users and can meet continuously changing economic and social Needs.
Website:- http://www.orgoneagate.net