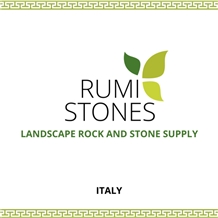 Andestones - Landscape Rock & Stone Supply

Peru
Company Description
Rumistones is a family owned business that has been selling high quality landscape materials in bulk form since 1998.
WHAT WE SELL
We sell landscaping materials such as natural stone, decorative gravels and rocks at low prices.
*All our products come from our own caves along Peruvian sea shores.
Buy directly from the source, no intermediaries.
Natural stones, Deco stones, Broken shells, premade tiles, sands and aggregates, coping, river rocks, paving, Waco stones, Ivory stones, flag stones, gravel, cobble stones, boulders, quartz stones, pea gravel and more.
You can order bulk, pallets, bags or full container (20'-40').
Our EU office is located in Bergamo (Italy). We supply our high quality products for clients in the US, Australia and Europe at great deals without intermediaries.