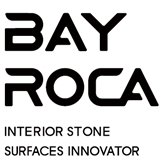 XIAMEN BAYROCA INDUSTRIES CO.,LTD

China
Company Description
BAYROCA is the solution supplier of interior project stone surfaces including:
*countertops for kitchen and bathroom vanity tops, bar tops;
*flooring and walling by natural marble, travertine and granite tiles;
*shower panels and pans, shower glass doors;
*sinks, hotel vanities.
The stone materials we offer:
*artificial quartz –mostly for countertops and walling;
*natural marble, travertine and onyx –for walling, flooring and countertops;
*natural granite and quartzite –for countertops mostly;
*cultured marble and solid surface –for vanity tops and shower panels and pans.
Our main market is on the high end hospitality and multifamily projects, such as Hilton, Marriott and Hyatt hotels, and some other high-end multi-residential projects. Most of the products are from our own manufacturing in Xiamen, China since 2008 with own strict quality control system, also outsourcing a small part.
The products & service we offer :
*Artificial Colors match (quartz).
*Project drawings & Estimation.
*Model Room process & installation guide.
*Quartz Slabs pressing ( 4 lines).
*Customized countertops, vanity tops and table tops, worktops.
*Project Stone tiles layout & pre-installation before packing.
*Standard and custom packing requirements.
*Door to door service.
…
We export to most high end quality markets and projects, such as USA, Canada, UK, Australia, Dubai, Singapore, Qatar, Kuwait, Mexico…
Quality is always our first criterion that can not compromise!
We are dedicated to the required delivery for projects.
Our craftsmanship drives our clients to stick to us after their rich experience with many manufacturers.
Onsite Check
The supplier's company certificate has been verified by StoneContact.Com.

Verified Supplier
International Name
Local Company Name
Company Establish Date
Business License
Trade License
Existence Image