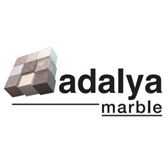 Adalya Marble

Turkey
Company Description
Adalya Marble Industry Trade Inc. founded by the leadership of Osman Gülmez in 2007 operates with its total of 5 plants where 3 of them are in Antalya Organized Industrial Zone, 1 in Finike and 1 in Korkuteli.
It has reached to the latest technology machinery with both renovations in machinery and new machinery purchases by giving priority to investments in plants especially in the last 2 years a
nd doubled its production capacity.
In addition, our company continuing its seek of innovation added two more quarries named Monte Bello Beige and Armani Beige in Isparta in 2012 to the current quarries that are Limestone Quarry in Finike, Sofia Beige Quarry in Elmali and Adonis Beige Quarry in Burdur. We feel right proud of sharing these two different stones which will destroy the usual perception of beige.
We owe a great debt of gratitude to you, our dear customers and friends who supported our company in its journey beginning with 3 plants and 2 quarries in 2007.