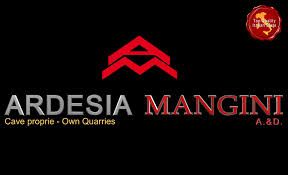 Ardesia Mangini A. & D. S.n.c.

Italy
Company Description
Ardesia Mangini A. & D. S.n.c. industrial complex is located in Valfontanabuona Valley, where we quarry and process exclusively first choice slate materials, thanks to the slate veins we have been owning for generations,, exploiting the best nearby slate quarries (Gazzo ASrea, Lorsica Mount, Genoa Province)
Quarries properties are located in the best area of the strands (Valfontanabuona, Location Gazzo, Monte Lorsica - Genoa - Italy). Is extracted and produced for generations exclusively SLATE OF QUALITY 'SUPERIOR, composition tough, fully waterproof, ecological, non geliva, insulation, pure and uniform in color and also suitable for indoor and outdoor applications.
The company Angela and Donatella Mangini covers an area of about 3200 square meters, the only sector headed by two women entrepreneurs. Modern technology combined with the expertise of highly qualified personnel, placing the industry leader. The petrographic analysis showed positive, the substantial difference in the quality of 'Mangini Slate compared to other slates in the industry and allow the use of the following brands to guarantee a product of Italian High Quality Certified.
ARCODOC dqc .: Slates, roofing and cladding of Certified Quality.
TQIS: Top-Quality Italian Slate (Slate Italian First Quality)
AUTHENTIC STONE: Differentiate from Stone Authentic Ceramic and agglomerates. Mark of Origin recognized throughout Europe to guarantee a product Highly Selected.
CRAFTS IN LIGURIA: Slate Val Fontanabuona - Upper Class. Guarantee of material extracted from the heart of the best Cave of Val Fontanabuona.