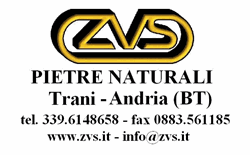 ZVS di Zagaria Sebastiano & C. sas

Italy
Company Description
Company operating in the field for about 20 years, it deals with natural stone trade in all types of processing, mainly stone of Trani and other Puglia.
Among the main features of the company is the transport service organized by the company to satisfy all customers, wherever it is, not only in the quality of the delivered goods but also in the timely delivery.
Other services include convenience and speed of information, business support, and easy payment agreement, thanks to a sales network consisting of representative agents. For info on the nearest agent, type on the CONTACTS page.
In this time of great discounts while stocks last, ask more writing an email to info@zvs.it.