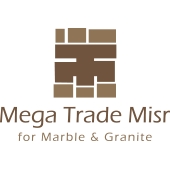 Mega Trade Misr for Marble & Granite

Egypt
Company Description
Marble & Granite
Marble, the noblest of building materials, has been used in our country since 5000 years.
We handle it with love and respect, but above all' we treat marble With the same knowledge and respect we treat our customers.
Our expertise, trust worthy, honesty, service acquired through many decades of experience from marble, has enabled us to gain the trust of estimated companies worldwide.
Our goals;
To gain the trust of our customer & be their first choice for Egyptian marble & granite.
To establish long time relationships with our customers worldwide in every country.
To position The Egyptian Marble & Granite as the first choice for customers worldwide.
Our slogan
Deal once Deal forever
Why choose Megatrade?
Choice
We offer our customers a wide variety of Egyptian marble & granite from the best quarries along Egypt processed in our factory with the latest technology.
Products
We can offer the Egyptian marble & granite in different forums that is most suitable for you:
1- Blocks.
2- Slabs with different finishes.
3- Tiles with different sizes.
4-Art works (water jet-columns-engraving)
5-sculpture , monuments.
Quality
We offer you the best quality in the Egyptian stone market with global standards through our service qualified team expert in Egyptian marble & granite. We use quality control system in the following processes:
Extracting
Manufacturing
Sorting , Loading& packing
Logistic Service
our professional logistic team handle the goods till delivered safely to destination.
After sales service
our after sales service team follow up to insure your satisfaction.
Price
We offer the most competitive price compared with our quality standards.
You save a lot by dealing with the source directly excluding whole sellers & retailers.
Onsite Check
The supplier's company certificate has been verified by StoneContact.Com.

Verified Supplier
International Name
Local Company Name
Company Establish Date
Business License
Trade License
Existence Image
Production Capacity
| | |
| --- | --- |
| Factory size | 10000m2 |
| No. of Production Lines | 2 |
| Factory Location | Cairo , Egypt |
| R&D Capacity | Own Brand |