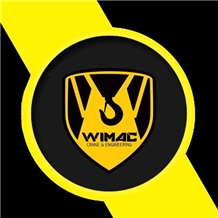 Wimac Crane Systems Turkey

Turkey
Company Description
Since Wimac Crane established the factory, we use the best solutions on the cranes to get the customer satisfaction around the World. As from 2012 by taking the TSE and CE certificates, we gain the engineering and new perspectives at the Crane field with supplying Crane products, Crane installations. With the well experienced teams Wimac Crane manufactures the best one for you even for special type of cranes. Wimac Crane is one the best one in Crane field which provides the Crane spare parts, technical teams around the World within couple of hours. Wimac Cranes prouds to declare the successes in Crane field since start doing its best for its valued customers. Wimac Crane Turkey to aims to prove the best solutions for cranes ever by rising up the quality bars around the World with latest technology. Wimac Crane Turkey prouds for providing the best Crane production, Crane systems, electrical winch systems, Crane for marble, portal cranes, Gantry cranes, monorail cranes, hoisting units, overhead bridge cranes and Crane equipments in latest Crane technology.
We are a one of engineering manufacturing company of Crane handling systems in Turkey. We produce gantry cranes Turkey, overhead cranes Turkey, jib cranes Turkey and wall cranes Turkey.
If you can let us know what you need for the Crane, we will try to do our best. Also you can visit our website to check out e-catalog.
Muhammed Keles
General Coordinator
Wimac Crane&Engineering
Gsm: +90 542 775 77 70
12vdc wire rope turkey, 5 ton eot crane specification turkey, cranes magazine turkey, cranes manufacturers turkey, double girder eot crane specification turkey, double girder eot cranes turkey, eot crane rail specification turkey, eot cranes design turkey, eot cranes manufacturer turkey, eot cranes manufacturers and suppliers turkey, eot cranes specifications turkey, eot cranes turkey, floating crane turkey, gantry cranes turkey, goliath cranes turkey, heavy duty cranes manufacturers turkey, heavy duty cranes suppliers turkey, heavy duty cranes turkey, heavy duty eot cranes turkey, hot cranes full form turkey, hot cranes turkey, hot metal ladle crane turkey, how does a telescopic crane work, industrial cranes turkey, industrial heavy duty cranes turkey, industrial ladle cranes turkey, kessler camera slider turkey, kessler crane cinedrive turkey, kessler crane pocket dolly turkey, kessler crane pocket jib price turkey, kessler crane turkey, kessler slider turkey, ladle cranes turkey, material handling conveyors turkey, material handling cranes manufacturer turkey, material handling cranes turkey, material handling equipment turkey, material lifting cranes turkey, overhead crane turkey, overhead travelling cranes turkey, sale eot cranes turkey, single line electric winch turkey, swl calculation for eot cranes turkey, telescopic crane for sale turkey, telescopic crane turkey, telescopic ladder turkey, winch 115vac turkey, winch 12vdc turkey, yard cranes turkey

Onsite Check
The supplier's company certificate has been verified by StoneContact.Com.

Verified Supplier
International Name
Local Company Name
Company Establish Date
Business License
Trade License
Existence Image
Trade Show
The Big 5 Saudi 2017
Middle East International Stone, Marble and Ceramic Show 2017
Vitoria Stone Fair 2016