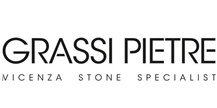 Grassi Pietre Srl

Italy
Company Description
Grassi Pietre has a long history: the Grassi family started working in its Nanto quarries in 1850. Nowadays Grassi Pietre continues facing the new global market challenges with care and passion.
New refined projects, based on the traditional stone of the company-own quarries meet traditional experience now supported by the latest technologies available in the stone processing sector and production.
The production is set in the modern Nanto (Vicenza) plant and it relies on innovative machinery and highly skilled manpower. A competent and integrated team takes charge of your projects, from development to production, thus guaranteeing the best possible results.
The Nanto plant covers a surface of 35.000 m2 with 4.000 m2 of workshop and 10.000 m3 of storage, where every block is catalogued according to the different "courses", (i.e. layers within the quarry of origin) and the "direction", representing the sedimentation plane of natural stone stratification.
Managed by the experience of four generations in the Natural Stone industry, the production facilities comprehende CNC machines, bridge saw machines, lathe machines, a sealing stone line for honing and polishing.
A highly skilled technical department supervises projects of various sizes and typology.
Grassi Pietre is the great Italian Vicenza stone trademark.Three Vicenza stone types - Giallo Dorato , Bianco Avorio (Pietra di Vicenza ) and Grigio Argento - are extracted in the company's own quarries.
These stone types were already used by the Romans in ancient times and became world-famous in the 16th century, thanks to Andrea Palladio's extraordinary Venetian villas.
Grassi Pietre carries on the Vicenza stone tradition at a worldwide level, both preserving the original value of this activity and guaranteeing advanced technological solutions and high quality standards.
The main stone-processing phases take place in the company's 40.000 m2 wide works in Nanto, which rely both on highly skilled staff and on modern equipment. Grassi Pietre offers a wide choice of natural stone and marble types, for the best custom-designed solutions.