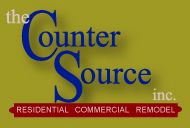 The CounterSource Inc.

United States
Company Description
Incorporated in 1996, CounterSource is a collaboration of expertise and passion in the field of fabrication and installation services. We pride ourselves in our employees and our customers, both of which we have a collaborative relationship with that benefits all.
The CounterSource, inc. was founded in 1996 by J. D. and Gloria Curnutt. Focusing primarily on custom builders they built their company on excellent service and superior quality. In 2000 John Hanna and Dennis Mayfield came on board and introduced the Countersource to production laminate for home builders, supplying all types of countertops from laminate to slab granite the Countersource has experienced steady growth ever since.
In 2008, to accommodate our growth, we relocated our facilities from Lewisville to Irving, for better access to our customers and to obtain the necessary space for production of our products. We went from a 15,000 square foot facility to over 35,000 square feet.
Focus on service and quality has been our calling card since the beginning and we will continue to raise the standard for service and quality in the countertop industry for years to come.

Onsite Check
The supplier's company certificate has been verified by StoneContact.Com.

Verified Supplier
International Name
Local Company Name
Company Establish Date
Business License
Trade License
Existence Image