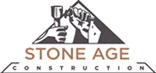 Stone Age Construction

South Africa
Company Description
Stone Age Construction was established in 2001 by builder and stonemason, John de Jager. The company is based in Klapmuts, just outside Stellenbosch, where a team of 49 highly skilled masons have the capacity to process 1000 square metres of stone per month. They share John's passion to preserve the age-old – and now quite rare – artistry of the original stonemasons. The company is poised to set new trends in stonework, with careful respect for this time-honoured craft.
Quite simply, we love stone. We love its organic beauty, its natural strength and its timelessness. And we love to share our passion for stone with our clients.
There are many facets to Stone Age Construction. We specialise in construction (in both traditional brick and solid stone masonry). We are equally inspired to incorporate beautiful stone elements into a building or landscape. More recently, we have found a niche in sculpting unique features (lintels, washbasins and columns) out of solid stone. Our website gives a glimpse into the scope of our work. Please give us a call to discuss your needs.