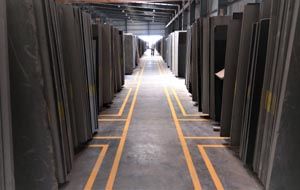 Petra Granites

India
Company Description
We are granite quarry owners, manufacturer exporter of Indian Granite slabs, rough blocks, tiles, monuments , memorials, tombstones, countertops, kitchen tops, granite cobblestones, steps & raisers, setts, regulation cobblestones, Belgian blocks, landscape products, granite pavings , kerbstones , driveway / walkway pavers , slate & limestone tiles series, patio packs to the customers across the world. A Very warm welcome to the world of Indian Granites and natural stone products.
We are in South India from where most of the world popular Indian Granites are Quarried, Processed & Exported. With our own, affiliate granite quarries & network of manufacturing facilities, we manufacture customer required granite slabs, tiles, pavings for residential , commercial , infrastructure project specific sizes, & shapes as polished, flamed, honed, leather, antique surface finishes for any large volume project supplies. Since we are manufacturer exporters, we just don't sell what is available. We have flexibility to manufacture and supply customer specific requirements of any big volume of same or combination of granite patterns or finished products.
Usually buying natural stone from country of its origin will have options to procure budget centric quality to reduce costs at a price cheaper than buying from local importers provided the supply source form origin country is trust worthy. We believe in delivering what is promised with care is most important to build customer relationship, satisfaction & trust for more opportunities. We do many containers of same granite pattern for large projects to combination of granites of a quarrying region to single container capacity. Happy to do any large or small volumes of granite slabs ,tiles & pavings with greater care and responsibility at wholesale prices for long term Business growth as dependable granite and natural stone supplier from India.
We manufacture and supply Granite Slabs & Tiles of Moon White, Colonial White, Colonial Cream, Forest Yellow, Thunder White, River White, SK blue, Lavender Blue, Black Galaxy, Tan Brown, Maple Red, Steel Grey, Black Pearl, Absolute Black, G20, Viscon White, Paradiso, Red multi, Silver waves, Bahama blue, sira grey, Himalayan blue and many more Indian Granite patterns with different surface finishes as per customer preferred specifications. We are specialised in project supplies of cobbles, setts, kitchen tops, vanity tops, steps and raisers, landscape products, pavers of different surface finishes like flamed, honed, chiseled, natural split, machine cut, bush hammered etc.
Onsite Check
The supplier's company certificate has been verified by StoneContact.Com.

Verified Supplier
International Name
Local Company Name
Company Establish Date
Business License
Trade License
Existence Image