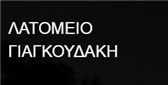 LATOMEIO GIANKOUDAKI

Greece
Company Description
Our company has been operating since 1990 and specializes in the extraction of natural rocks. Our first place of business was Sykí Pilíou. Then the company was engaged in the traditional Sykis stone. In the last few years, however, our business is unique in its unique white stone, which is also characterized as a marble stone. We specifically excrete this stone from our quarry and process it in any form that the customer wants with the cutting machines we have. This particular stone is white in color with various shapes and knitting colors inside.
At the same time in our quarry we excavate a dark blue stone with many natural faces, which is characterized by its great hardness.
Our company is located at the boundaries of the settlements of Argalasti-Syki, in the southeastern part of Pelion.