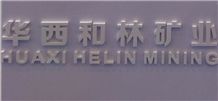 Huaxi Helin Mining

China
Company Description
Huaxi Helin Mining, founded in 2013, is a diversified stone enterprise professional in mining on top level quarry worldwide, as well as manufacturing and trading. Based on the strong capital and channel advantages of China Jiangyin Huaxi Group, our company integrates technical resources with HCM, which has a history of 20 years of stone industry. Responding to the call of "The Belt and Road", our company took the lead in investing and developing stone industry in Mozambique, introducing advanced equipment and technology, which also help solve local employment, welcomed by the governments and people of both countries.
Up to now, our company has obtained a number of granite mining permits in Mozambique, with precious granite types: Mozambique Black, Mozambique Blue and Mozambique Brown series, all with stable color and quality. The company combine wire saw machine and mine saw machine to grantee a stable producing, and the blocks has been sold around the world famous stone enterprises.
At the same time, the company has built a large stone processing factory in the Chimoio City, Mozambique, with advanced granite processing facilities and scientific management mode. It is located by the national highway, easy connecting east and west, aiming to become the largest stone processing and distributing base in southern Africa .
In future, the company will continue to promote the stone culture, heritage stone classic, adhere to quality and innovation, lead the stone industry to a transforming and upgrading road, help to connect China and the world, to communicate human and nature.