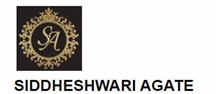 Siddheshwari Agate

India
Company Description
Established in 1987, Siddheswari Agate has become a dependable Manufacturer, Wholesaler, Distributor, Supplier, Trader and Exporter of Agate Products, Pebble Stones, Stone Chips, Onyx Pebble Stones, Aquarium Gravel, Narmada Lingam, etc. We offer these products in different specifications for providing complete satisfaction to the clients. We, a Sole Proprietorship company, are located in Anand (Gujarat, India) with a modern and well-functional infrastructural unit to manufacture products as per the global set standards. Under the management of skilled mentor "Mr. Vraj Patel", the company has gained huge clientele in our country.
People love getting noticed for all good reasons like when they have best dressed or adorned stylish jewelry pieces. The feeling of being admired by someone in parties, weddings and festive functions is precious and we, help in letting people experience this feeling by offering them a finest collection of semi-precious stone studded jewelry pieces. Our Agate stone studded Earrings and Necklaces are worth-investing because these are superior in finish, elegant in looks and extremely stylish.
In addition to aforesaid products, we also serve Agate Balls, Garden Pebbles, Agate Pebbles, Agate Angels, Polished River Pebbles, Polished Gravels, Decorative River Stones, Decorative Gravels, Natural River Pebbles, Unpolished River Pebbles, Unpolished Gravels, Carnelian Stones, Black Polish Pebbles, Orange Onyx Pebbles, Rose Stones, etc. Our collection is free from all sorts of defects because as a quality-conscious manufacturer, we strongly focus over maintenance of quality. Prior to shipment, we conduct several tests on offered line. Products pass through a series of quality checks in order to prove their authenticity.
Our ability to complete bulk orders on time, makes us reliable business partners to clients. Application of modern techniques assist in making products of supreme quality in large quantity. We carry out manufacturing work in our capacious production facility that is installed with innovative machines and tools.