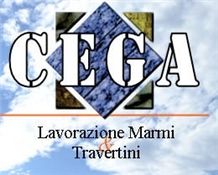 CEGA SRL

Italy
Company Description
The CEGA Srl operates in the industrial district of the Roman Travertine, in Tivoli Terme, Rome, since 30 years.
Born in 1979 as a team of four people working on call, CEGA
spent some time in the management of a small artisan laboratory of travertine and the first small but significant step was to rent a lab with machinery for natural stones.
After seven years of hard work and professional honesty, in 1989 the CEGA Srl inaugurated the start of work at the new plant, with land, hangar and equipment on road A. Consolini 26 where currently operates.
The sector where CEGA has focused most of its resources is residential construction:
flooring, paneling, sills, stairs, travertine and marble works of all kinds. With its up to date
equipment now available, allowing to process large quantities of orders in a short time, CEGA b
uys raw blocks and after various processing steps, gets the finished product minimizing costs and production expenses to the benefit of a final price extremely competitive.
The company has established itself over the national territory, again expanding to emerging countries in the Middle East.