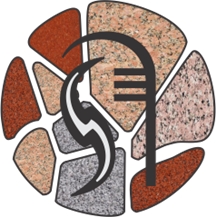 Shivam Stonex

India
Company Description
SHIVAM STONEX group is a leading exporter and supplier of granite, marble, Fireplace and Stone articles. We started our journey in international Market as a dedicated export oriented company, which is based in Jalore (Raj) India called Granite City situated in Aravalli's lap, More than Twenty verities of granite available near Jalore, we extract our granite from world class quarries and process has been done in well - equipped manufacturing units. We have the largest design inventory for the fireplace portals in India, and with the combination of special crafters and machine, the crafted Fireplace looks beautiful and elegant. Our primary export markets are USA, UK, Turkey, Canada, Mexico, Russia, Nigeria, Ethiopia, China, France, Australia, South Korea and Taiwan. The granite extracted from our own quarries has gone through proper process in our 100% Export Oriented Unit and with proper inspection, we can assure our customer for the finest quality stone. Our company formulated on the basis of delivering the vast variety of products with finest quality and standards. From our experience in this field we bring you the most unique collection of finest quality exotic stone to be found anywhere. We value our customers and work hard to earn you business. The ultimate vision we strive toward as a company is to be seen as the preferred supplier of natural stone products in the country. Our vision also includes achieving complete customer satisfaction for each and every sale we make, be it large or small, and for our customers to continually refer back to us for all of their and their associates.' We provide you the finest quality Granite, Marble and Fireplace portals, which is impermeable to water, Fracture less and stain resistant. In Construction industry supply of building material is the most essential, SHIVAM STONEX mainly focus on to provide the material to the builder, contractor, Wholesaler, Supplier and developer so that the landing cost of material remain economical and logistic cost also get reduce. We can directly provide finished product to the consumer with unmatched pricing and hassle free logistic management. For Our Customer, This is more than Just a Business: 1. We establish a cheer full and satisfied relation with our customer where personal knowing is very important, we would not like to do business without knowing our customer. 2. We always prefer to meet with our Customer; if this is not possible because of busy schedule of both the parties, we always make our meeting on video conference. It is best way to build trust factor between both parties. 3. Understanding is very important term in business, without understanding the viewpoint of each other; we would not be able to finalize our deal. We will always like to understand the every point of our customer because your satisfaction is our utmost priority. Because in India we believe, that Customer equals God. Because of them, you are earning your spending to run your daily life.
Office Address :- Shivam Stonex Rajendra Nagar - Ahore Dist. - Jalore, State - Rajasthan, India. Pin - 307029
Site Address :- Riico Industrial Area Jalore-Bhinmal Road, City-Jalore, State-Rajasthan, India. Pin-343001
sales@shivamstonex.com
+91 8005980137
Onsite Check
The supplier's company certificate has been verified by StoneContact.Com.

Verified Supplier
International Name
Local Company Name
Company Establish Date
Business License
Trade License
Existence Image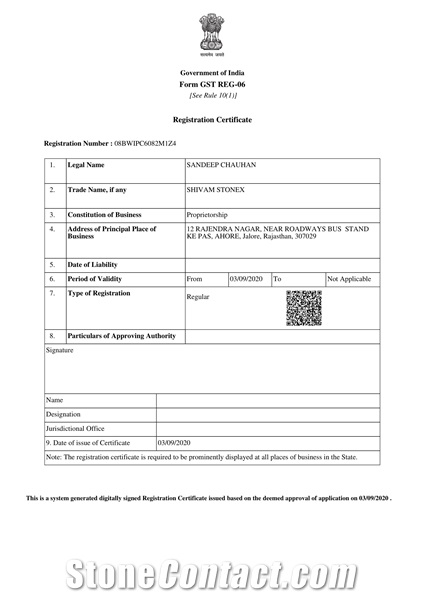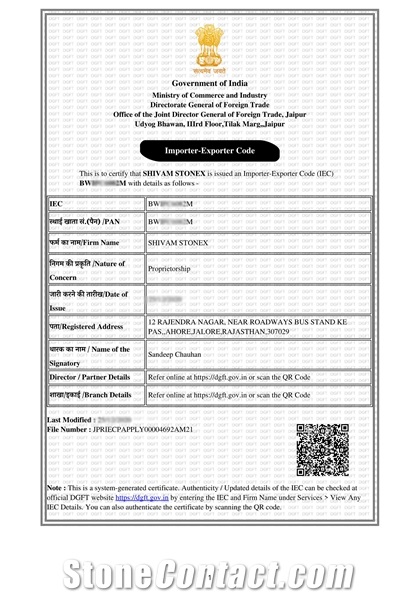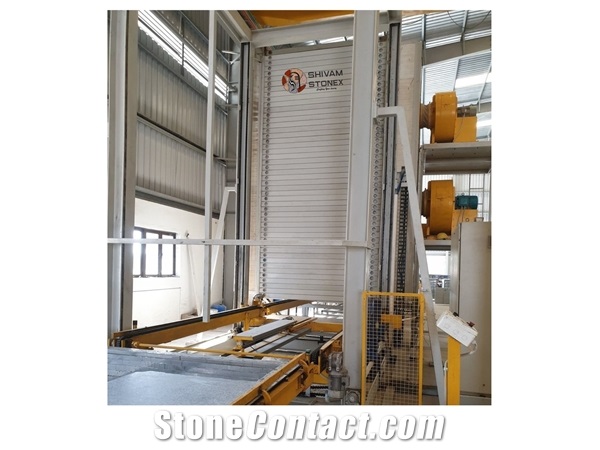 Production Capacity
| | |
| --- | --- |
| Factory size | 2500 Square meter Each 0 |
| No. of Production Lines | 5 |
| Factory Location | Jalore |
| Factory Location | Sirohi |
| R&D Capacity | 112,114 |