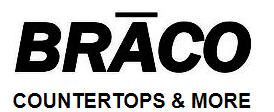 Braco Stone, Inc

United States
Company Description
BRACO is a countertop fabrication and installation business owned by the Bray Family since 1992. We supply and install these countertops in both residential and commercial applications for both retail and wholesale customers. Whether you are a builder, designer, developer, or retail customer, we can help! We have installed over 5000 kitchen counters over the years and even more surfaces for bathrooms, fireplace surrounds, conference tables, furniture, and wall surfaces!
We have been at this business for a long time, but I'll try to make this short. Here is a brief history of how we came to be...
Mark Bray took over Allied Tile, a large commercial tile contractor, from David Bray and ran it for 20 years before changing the name to Braco and focusing on granite countertops in 1992. Graham Bray came on board at that time to lead the company in this new direction with his knowledge and skill in fabrication and installation. Scotty Bray was the first Braco employee in 1992 and was added to the ownership in 2002. Below is a brief bio of each owner:
Scotty Bray - GM & Sales
Scott is the young buck of this crew and best looking by far!(can you guess who made the website?) I've been doing this since I was 13, so I know a thing or 2 about countertops. I'll get you the best quality product at a great price...tell your friends!!!
Graham Bray - Operations Manager
Graham is a pretty rough guy(mushy on the inside though) and one of the top granite artisans in the country! With over 25 years experience, you want him working on your job...
Mark Bray - Wise Salesman
Mark is old, but we don't hold it against him...He's seen everything throughout the years and will make sure your job gets done correctly and just the way you want it. Careful, he's a charmer!