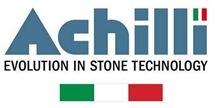 Achilli s.r.l.

Italy
Company Description
Achilli is a dynamic family business made of young and motivated people who, at their second generation in manufacturing equipment and machinery for the stone processing, benefit from the value of half a century long experience in this specific industry.
The company started in 1950 as a general engineering and metal working workshop and, a few years later began to specialize in the production of floor grinders. Over the years the company has continued to expand by entering new fields of industry such as "Building" and "Stonework", gaining considerable recognition and success especially in the international market. Today Achilli can be considered a leader in its field thanks to the experience acquired over the years which is reflected in the outstanding quality of their products.
Our large-scale production and worldwide presence allow us to offer competitive prices and short delivery times. At the same time we have committed to provide an efficient after-sales service and professional assistance.
Achilli S.r.l. was founded in 1950 as a general engineering and metal working family company and, few years later, began to specialize in the production of floor grinding and polishing machines.
Over the years the company has continued to expand by entering new fields of industry such as building and stonework, gaining considerable success especially in the international market.
Today Achilli is well-known all over the world; thanks to the experience acquired over the years, which is reflected in the outstanding quality of their products, Achilli provides innovative and essential equipment, competitive prices, short delivery times and an efficient after sales service.
Tel:+39 0541 387066
Fax:+39 0541 389058
info@achilli.com
Via Montescudo, 148, 47924 Rimini RN, Italy
www.achilli.com
P.IVA IT02343350407
Capitale Sociale: € 98.800,00 i.v.
Registro delle Imprese di Rimini IT N.02343350407