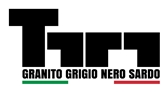 TGM srl

Italy
Company Description
TGM is a recently established company which however boasts a 30-year old expertise in the extraction and trade of natural stones..
We own a "Grigio Sardo" granite quarry, located in Sardinia island (Italy), in the area of Buddusò (OT).
The granite extracted from our quarry is of "Grigio Sardo" (Sardinian grey) type.
We provide on request its physical-mechanical and radioactivity analyses which certify the quality of our stone.
We supply blocks, slabs or cut-to-size tiles, with different shape or manufacturing process, as natural split, saw-cut, bush-hammered, flamed, polished (also with anti-skid stripes), etc.
We would like to highlight that we are the real manufacturers, so because of the absence of any intermediary, our prices as well as our expertise are the most competitive!